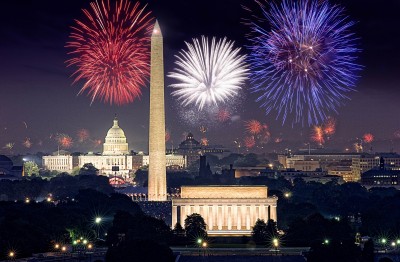 Washington, D.C., is a worldwide hub of influence
and the nerve center for U.S. policy and politics.
With its impressive monuments and museums, its stately government buildings and mansions, Washington DC is easily recognizable as the United State's capital city. The city is mainly based on government and everything from museums to mansions bring millions of tourists each year. Washington DC is the second most visited city in the United States (after New York) and is among the top travel destinations in the world.
The idea to build a national capital along the Potomac River was approved by the new American government in 1790. Ten years later Congress held its first session in Washington, D.C. America's traditional political hub now buzzes with international shops and street festivals. Lots of museums are free. And don't miss off-beat discoveries like the great jazz club where Duke Ellington used to play. Or, artwork and blueberry pancakes at the tantalizing old Eastern Market.
Walk, run, or cycle by the Reflecting Pool to the Lincoln Memorial and Washington Monument. Get an eyewitness view of the history of journalism at the Newseum. Test your spy skills at the International Spy Museum. Outdoor fountains and glass-domed rooms of rainforests, flowers, and deserts await you at the United States Botanical Garden. So does a walk along the Chesapeake & Ohio Canal, and through the beautiful historic Georgetown neighborhood.
For more LDS-oriented information on Washington DC click here.