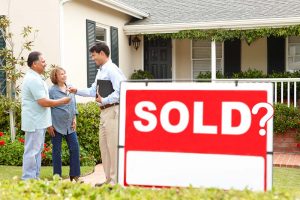 You may hear of reasons that some people like to sell (or buy) their home without an agent. However, this can often cause many problems you may not anticipate when starting the process. Below are only five of the reasons from Keeping Current Matters for why avoiding FSBO (For Sale By Owner) is going to save you a lot of headaches when selling (or buying) a home:
1. Too Many People to Negotiate With
Here is a only a partial list of some of the people you will need to be prepared to negotiate with in the event of FSBO:
The buyer, who always wants the best deal possible.
The buyer's agent, who solely represents the best interest of the buyer.
Possibly the buyer's attorney (in some parts of the country).
Home inspection companies, working for the buyer. They will almost always find some problems with the house.
One or more appraisers for any valuation questions.
2. Getting You House Out There and Seen
Since real estate agents make their careers selling houses, they have marketing tools already in place. They can get your house to a wider range in the market. Recent studies show that 88% of buyers search online for houses, and you can bet that your real estate agent has many tools for that.
3. Online Results and Leads
Consider the stats for how people find houses:
43% – on the internet
9% – from a yard sign
1% – from newspaper
Simply listing your own home in a newspaper and with a yard sign will only reach a small percentage of the market, causing more work for you.
4. FSBOing is More Difficult Than Ever
The amount of legal and other paperwork involved in selling and buying homes has grown due to mandatory regulations implemented in recent years. This large amount of confusing paperwork is one of the reasons FSBOing has dropped 10% in the last 20 years.
5. Your Net Pay Increases with an Agent
Some think that FSBOing saves you money (by not having to pay commission fees). However, studies have shown that houses sold through FSBO are sold for lower prices than if they sold through a real estate agent. For example, an FSBO home may sell for $208,000, but with an agent, the same home would sell for $235,000. While every agent may not be able to get $27,000 more for your home (some studies suggest people are more likely to FSBO in markets with lower price points), you want to take every opportunity to get the highest price possible for your house when selling. (If you are buying, an agent is looking out for you and helps you negotiate the lowest price!)
LDSAgents.com
Now that you have seen a few reasons why selling or buying a home that is FSBO may nor be the best option for you, let LDSAgents.com help you find the right agent to help you get your dream home!