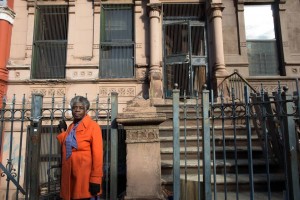 Sybil Patrick's vacant brownstone in Harlem was fraudulently sold to unsuspecting buyers by swindlers who had forged the deed. Photo: Pearl Gabel for The Wall Street Journal
NEW YORK-The clues were there for months, but property investor Sybil Patrick didn't put them together. The locks to a vacant Harlem brownstone she owns were changed. Belongings weren't in the same place she left them.
Then one day last spring, Ms. Patrick, a 79-year-old former nurse, showed up to tend the front yard. The superintendent next door asked why she was visiting a house she had already sold.
"I told you I was never, ever going to sell," she recalled saying.
But it turned out the superintendent was correct: The house had been sold, without her knowledge, about a year earlier for roughly $750,000.
Deed fraud, helped by proliferation of online records, is reaching 'epidemic' levels in Manhattan and becoming more common elsewhere in the U.S.