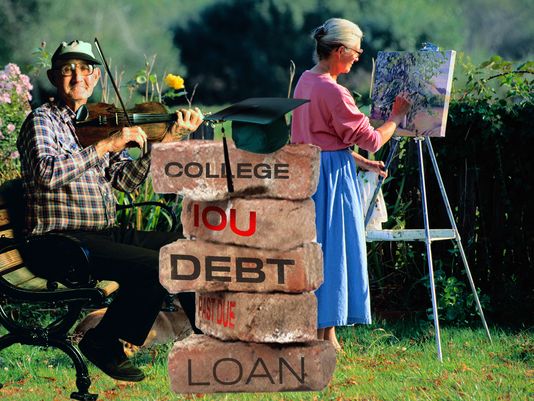 How old will you be when you finally pay off your student debts?
Rosemary Anderson, from Watsonville, California, took out two student loans in her thirties when she earned her bachelor's degree, and her master's, totalling $64,000. She has worked at least one job most of her life, in addition to raising her two children.
But after health complications from lupus, and expenses from a divorce, Anderson, 57, fell behind on her payments eight years ago. With compound interest, the loans have ballooned to $126,000. With payments of $526 a month, she will be 81, she estimates, when she pays it down.
A growing percentage of aging Americans struggle to pay back their student debt. Tens of thousands of them even see their Social Security benefits garnished when they cannot do so.
 Much has been made of young people feeling the crush of student debt in a slow economy, but a new report from the Government Accountability Office says that more seniors are carrying student debt than ever before.
Federal student debt among Americans 65 and older increased sixfold since 2005, reaching $18.2 billion last year, according to the report. Anderson, who testified to the Senate Committee on Aging during a session last week to address elderly student debt, is among an estimated 2 million Americans age 60 and older who are in debt from unpaid student loans, according to data from the Federal Reserve Bank of New York.
Some have taken out student debt for others, such as children, but many are still paying down their own long-ago college classes.
Older borrowers are a small portion of the number of debtors with student loans, but debt among seniors has risen in recent decades. A study from the AARP Public Policy Institute shows that Americans over age 50, compared to any other age group, are experiencing the sharpest rates of debt increase since 1989.
"Education debt is contributing to the huge increase in overall financial debt in this country, which is likely delaying the ability of people to retire," said Lori A. Trawinski, senior strategic policy adviser for the AARP Public Policy Institute.
Experts suggest debt forgiveness for the most vulnerable borrowers, those that can't make regular payments and maintain a minimal standard of living. Itkin would like to see a solution that allows people to restructure their debt, especially if they have shown a "good faith" effort to pay them over a period of time.
"There are a few people who abuse the system, but most of these people are retirees who have worked most of their lives and had problems or fallen on hard times," she says.