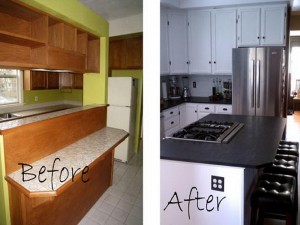 Turn on any number of TV channels almost anytime during the day or night and you're bound to find at least a couple of shows about flipping houses.
Enticing, right? If you're getting ready to plunk down cash for your own flip, here are a few things you need to think about.
1. Make sure you've got the money
Sounds obvious, but…do you really know the financial stakes involved? "The first expense is the property acquisition cost. While low/no money down financing claims abound, finding these deals from a legitimate vendor is easier said than done. Also, if you're financing the acquisition, that means you're paying interest," said Investopedia. "Every dollar spent on interest adds to the amount you will need to earn on the sale just to break even."
2. Buy in the best location you can
"Expert house flippers can't stress this enough," said MoneyCrashers. "Find a home in a desirable neighborhood, or in a city where people want to live." And keep in mind the convenience factor-for the potential buyers, certainly, but also for you.
3. Work with a realtor…or become one
Tying to maximize profit by selling a flip yourself rarely works out well if you don't know what you're doing.  The money you spend on a Realtor commission can be well worth it for the ability to concentrate on other things and know the sale is in good hands.
Beyond getting the home sold, good real estate agents like those at LDSAgents.com, can be helpful in other important ways when it comes to flipping. They can help you find great deals, get you comps, help you connect with lenders or contractors, and a lot more.
4. Check the comps. And check them again
Speaking of comps…you can't make a smart decision on buying, fixing up, and flipping a house if you aren't aware of the prices in the neighborhood. And that might be easier said than done. In states like Texas, home sales are not reported and are not public record like they are in states like California. Do your research so you know what you're up against.
5. Make smart updates
Knowing where to spend your money is key to a successful flip. Home improvements that increase the value of a home might include upgrading kitchen appliances, repainting the home's exteriors, installing additional closet storage space, upgrading the deck, and adding green energy technologies.
This is another good reason to use an LDSAgents.com Realtor who is a local expert: they'll be knowledgeable about specific updates that are important in your market.
6. Use good products
Scrimping on construction costs may seem like a good idea if it means your financial commitment is lower, but low-end materials might not get the home sold or fetch the sales price you want.
7. Work with good people
Everyone you work with has the ability to make your flip a success or derail it. Partner with those you can trust, and don't forget to make sure they're qualified for their role.