Home chefs with commercial-grade appliances can complete the look with restaurant-style kitchen faucets.
These industrial-style fixtures have spouts nearly twice as high as normal faucets to fit tall pots or a large stack of plates underneath. The faucets typically have a detachable sprayer wrapped in a flexible spring coil.
While many homeowners are drawn to the faucets' industrial-look, some balk at their large size, says Tim Maicher, director of marketing at Blanco, a high-end faucet maker. The early models were so large that "the faucet would swing around like a loose fire hose," says Mr. Maicher. To remedy this, Blanco and other manufacturers introduced slightly smaller versions, with the option of a hidden coil.
Here are a few different styles for varying budgets: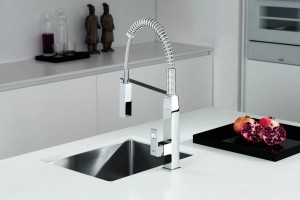 Keeping Cool
Inspired by the geometry of cubism, Grohe's Eurocube Semi-Pro faucet was introduced in August. As a safety feature, users can set a maximum water temperature to prevent scalding injuries.
Price: $895 for the StarLight Chrome finish and $1,195 for the SuperSteel Infinity finish.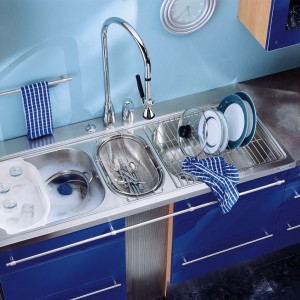 An Array of Sprays
Kohler, a Wisconsin-based manufacturer, sells professional-style faucets with a handle that users squeeze to change the intensity of the water-from regular flow if they are filling a pot to strong spray for rinsing dishes.
Price: $2,067 for the Pro-Master model in chrome.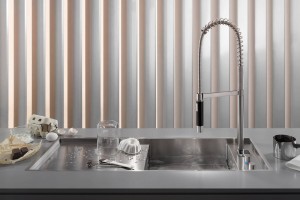 Playing Footsie
German company Dornbracht introduced a new feature in Europe this year that allows people to control the faucet on and off with their foot. Another feature lets users press a button and get specific amounts of water-such as a liter. Next year when Dornbracht offers the faucet in the U.S., buyers will be able to select cups or quarts.
Price: $1,377 for the Profi faucet in polished chrome and $1,859 for platinum matte.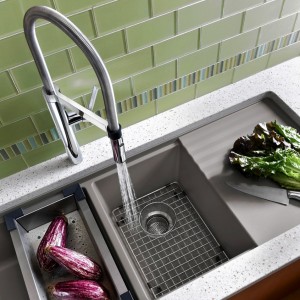 Hands Off
Blanco's restaurant-style faucet has a flexible hand-held sprayer. When in hands-free mode, magnets hold the sprayer in place. The Oberderdingen, Germany-based company says customers also put these faucets in laundry rooms, using the high-pressure spray to rinse out stains.
Price: $845 (chrome) and $925 (satin nickel) for the Blanco Culina.
Aili McConnon
The Wall Street Journal